You close your eyes. It's about 6 am in the morning and you've been fishing since 7 pm previous day. At some point you were too tired to fish so you sat eyes blanked at campfire, ate a few sausages with mustard, and drank two beers. Then, while the others went sleeping or left, you continued fishing. And you landed trout. A good one, too.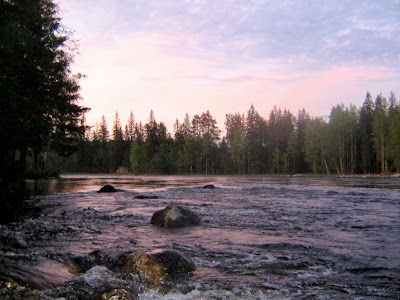 The river is located between lakes, as most rivers of the region, and has only two sections that are fishable without boat. Runs are short, wide, and extremely strong. But so are its trout: short, stout, and extremely strong. In here, where you live, they are legendary. A lot of fishermen come after these trout but only a few catch them.
You've been awake for almost 24 hours. You have been fishing for about 11 hours with only a few small breaks. You have a tent but no sleeping bag. Somehow the idea of driving home to sleep lured its way to your mind and you actually took off your leaking waders, sat behind the wheel and started driving. Driving at this mental stage is not a wise decision; it's an act of insanity. Your mind paid no attention to such introspection. But, instead of driving home, you drove to the other river section.
You've somehow managed to dodge the crowd. First, in the evening, you selected different river section than most of other fishermen, and now in the morning, you were just about to drive home but decided to check the crowded section before you leave and found out that there was only one car left. So, instead of leaving, you sit behind the wheel with your eyes closed. You try to recall all the moments of last hours but memories are fussy. After a minute or two you hear engine starting and the car drives away. You are alone in a great trout stream.
A moment later you are gazing the river from bridge. A pocket water section looks tempting. You tie on John Goddard's famous caddis dry fly and Lennart Berqvist's pupa pattern. You figure that the English pattern will be a very attractive indicator and the Swedish pattern would be the choice of a picky trout.
When you get into the water and start casting you notice that you can't see your indicator fly from roughness of the surface. Sleep deprivation isn't helping either. But this is what you love so you keep on fishing.
Mind and body become separated. Body is fishing; mind is dreaming and enjoying the ride.
Suddenly you see a flash of light below the surface.
"Hey! That looked like a fish!" your concussions mind says with astonishment.
"
No kidding
." subconscious mind would reply if it could talk. While conscious mind is speaking, subconscious mind is acting: right hand raises the rod and left hand pulls the line.
"I'm getting good at this!" says the conscious mind.
"
You are getting good at this?
" would be the answer.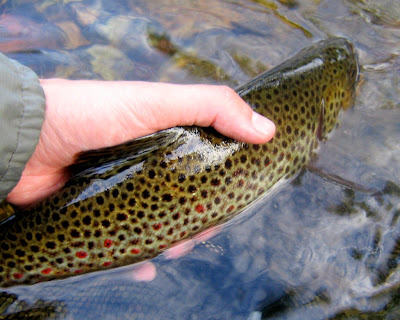 You get back into the car and start driving home. An hour later you stop the car, close your eyes and fall to sleep.